I sell Minkels products
As a partner of Minkels it is important to keep track of the latest product innovations and developments. Besides that, you would also like to know all the ins and outs of our current portfolio. That helps you – as a Minkels Solution Partner – with sales and – as a Minkels Service Partner – when performing installations and maintenance.
Sales
In the sales process, it is important to have correct information at your fingertips. In the beginning of the sales process that often means, having the right brochures. In later stages, it involves e.g. manuals. As a Solution Partner you offer the following solutions: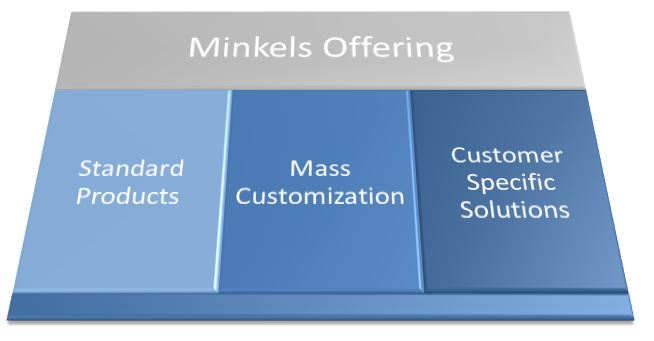 Standard products and customer-specific solutions probably don't need much explanation (see the table below). But what is mass customisation exactly? And how can a configuration tool support you in the sales process? Keep on reading in the Mass Customisation catalog.
Service
Because service – in the form of e.g. installation and training – is such a different kind of ballgame, Minkels works with service partners. Thus, Solution Partners can focus on customer relationships and the sales process and Service Partners ensure an optimal after sales experience.
Becoming a partner?
Would you like to become a Solution or Service Partner? Please contact us!
Standard product catalogue

Mass Cust. brochure

Customer Cases

Brochures
---