VariCondition - H2O
Minkels offers a complete 'row-based cooling' portfolio. These 'row-based' cooling units are placed between the 19-inch (server) racks and offer cooling power in a very efficient and flexible manner. Supplemented by the total Minkels portfolio, a state-of-the-art total solution emerges.
Minkels distinguishes between the following products:
VariCondition H2O–316

VariCondition H2O–650
VariCondition H2O–316
The VariCondition H2O–316 has a cooling capacity of 16 kW (TW,in = 12°C , TW,out = 18°C. TL,Return = 35°C, 30% RV). These products are typically used in small and medium sized server rooms. This provides customers with a reliable IT-cooling solution at an attractive investment cost.
Benefits H2O 316
Product-specifically designed for the cooling of IT-equipment

Favourable price performance

A solution for every situation or capacity

Compact construction which allows for use without a raised floor
VariCondition H2O–650
The VariCondition H2O-650 has a cooling capacity of 50kW (H2 O–650: TW,in = 12°C , TW,out = 18°C. TL,Return = 40°C, 20% RV). Because of the still increasing energy density per rack, Minkels has chosen to offer a 50kW capacity on the footprint of a server rack. This makes the VariCondition H2 O-650 suitable for larger server rooms and data centres. Because of its standard dimensions, this product is also suited to supporting local energy density (high density zones) in existing data centres.
Benefits H2O-650
High capacity in a small footprint

Dimensions are identical to that of a server rack

Lay-out of the room does not need to be adapted specifically to fit the cooling equipment

3-phase power supply to simplify electric balancing in the power network

Possibility for applying moistening

Possibility for measuring/displaying the actual supplied cooling capacity

Independent of each other, the fans can assume a variable speed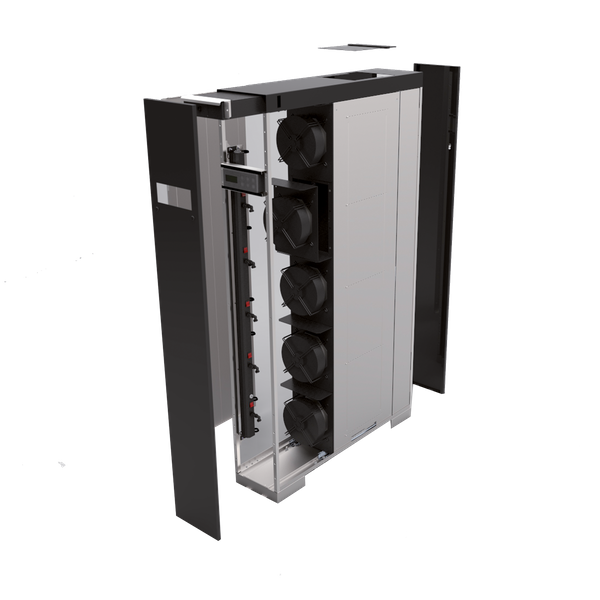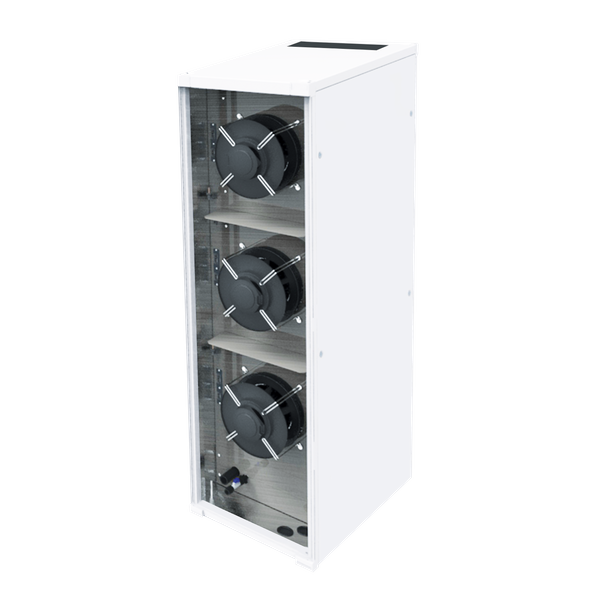 Downloads