Micro Data center solutions
Minkels micro data centre solutions are all about making ordering easy. Simplicity combined with reliability, efficiency and cost-effectiveness. The fully assembled solutions can be ordered through the Minkels standard catalogue. All solutions can of course be expanded upon with a number of options and accessories.
One of the Minkels micro data centre solutions is the MatrixCube. Minkels and Legrand have brought power distribution, cooling, housing and mechanical infrastructure together in a single solution. This turns the MatrixCube into a complete and compact server room. The MatrixCube does not depend on the room it is in and can be implemented at almost any location within a business. No radical modifications to the building are needed.
Micro Data center solutions products: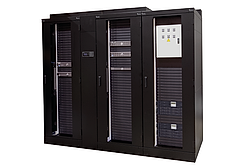 Turnkey, cost-efficient, professional IT infrastructure
Read more
---