Cooling
With a growing industry that demands green data centers and therefore an optimized energy consumption, cooling plays a key role to ensure that data centers can perform at their best, while constraining the energy demands of these devices.

With this in mind, Minkels offers a wide range of flexible and energy efficient cooling solutions to provide the best possible data center configuration. Under all circumstances, for every situation. Whether for:


a small server room or a large data center

a new building or an existing office

high or low heat densities per rack

chilled water or direct expansion.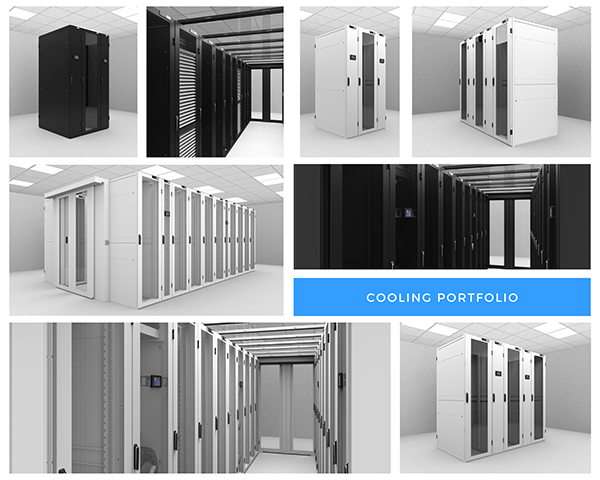 The high density computer environments are well served with Minkels active cooling solutions - whether these are Direct Expansion (DX) solutions (including coolers with a cooling capacity of 10 kW or 20 kW) or Chilled Water (CW) ones (for higher heat densities, depending on the cooler selected, one unit can cope with 40 kW or 60 kW of heat load).

Minkels cooling devices are fitted in the Nexpand frame and designed under the Nexpand platform phylosophy. This means that the integration of the coolers in the containment (whether it is open or closed loop) is seamless. It also means that the coolers can integrate with most of the accessories that are available for Nexpand cabinets. So, your cable management continuity and airflow management remain optimal!

APPLICATIONS – SELECTING YOUR COOLERS

Minkels will always be in direct contact with you to provide the best match for your needs, gather the information you provide and calculate the most optimal configuration for your solution.

As a rule of thumb to provide some guidance it can be said that:
DX solutions prove to be more energy efficient when the heat load of the containment is below 100kW. This means that DX deployments are to be expected in small or medium size containment solutions where the heat densities per rack are not too high, commonly around 5kW per rack.
CW solutions offer higher cooling capacities to face the most demanding applications, these prove to be more energy efficient when the heat load of the contaiment goes beyond 100kW. Applications such as high performance computing, artificial inteligence, gaming or crypto mining are commonly demanding this need.


Please keep in mind that exceptions may apply, that is why at Minkels we will always be in direct contact with you to ensure that the right configuration is provided.