Rack and Stack solution: Nexpand TR
The Nexpand TR cabinet is perfect for Rack and Stack applications that require an extremely robust and durable enclosure. Nexpand TR, designed for shipping with equipment pre-loaded, provides operational, financial and sustainability benefits.

Perfect for rack and stack applications, and compatible with the Nexpand platform.
Reinforced cabinet up to 1020 kg (transport load) & 1500 kg (static load).
Fast to deploy in a safe, sustainable, and secure way.
Minimizes installation time and costs. Special designed reusable packaging (tested to ISTA standards).


WHAT WE PROMISE
A server cabinet designed for shipping with pre-loaded IT equipment up to 1020 kg. Nexpand TR is fast to deploy in a safe, sustainable, and secure way. The reinforced cabinets are protected by special designed secure, reusable packaging (tested to ISTA standards). These cabinets are then delivered to site and ready to run with minimum installation time and cost.
In terms of how the cabinet has been strengthened: The frame is reinforced by having a reinforced height post, so that it is stronger and more rigid. There is also an additional strengthening beam that is in the depth and there's also the VMR, so the 19 inch is reinforced. These are the three main differences compared to the Nexpand standard frame. And we've also added castors (which can be added to a normal frame, but these ones are capable of carrying the heavy load.
HOW DOES IT WORK?
1. Nexpand TR is manufactured at Minkels, The Netherlands.
2. Nexpand TR is packed, and will be transported to the integrator.
3. The Integrator installs and tests the equipment and cabling. Nexpand TR is packed in a special designed crate which protects your IT equipment and the cabinet.
4. After installation of the equipment the fully equipped cabinet is transported to the end user.
5. The fully equipped Nexpand TR arrives on site. Time and cost of installation and implementation for end users are significantly reduced. The packaging will return to the integrator and can be re-used for the next project.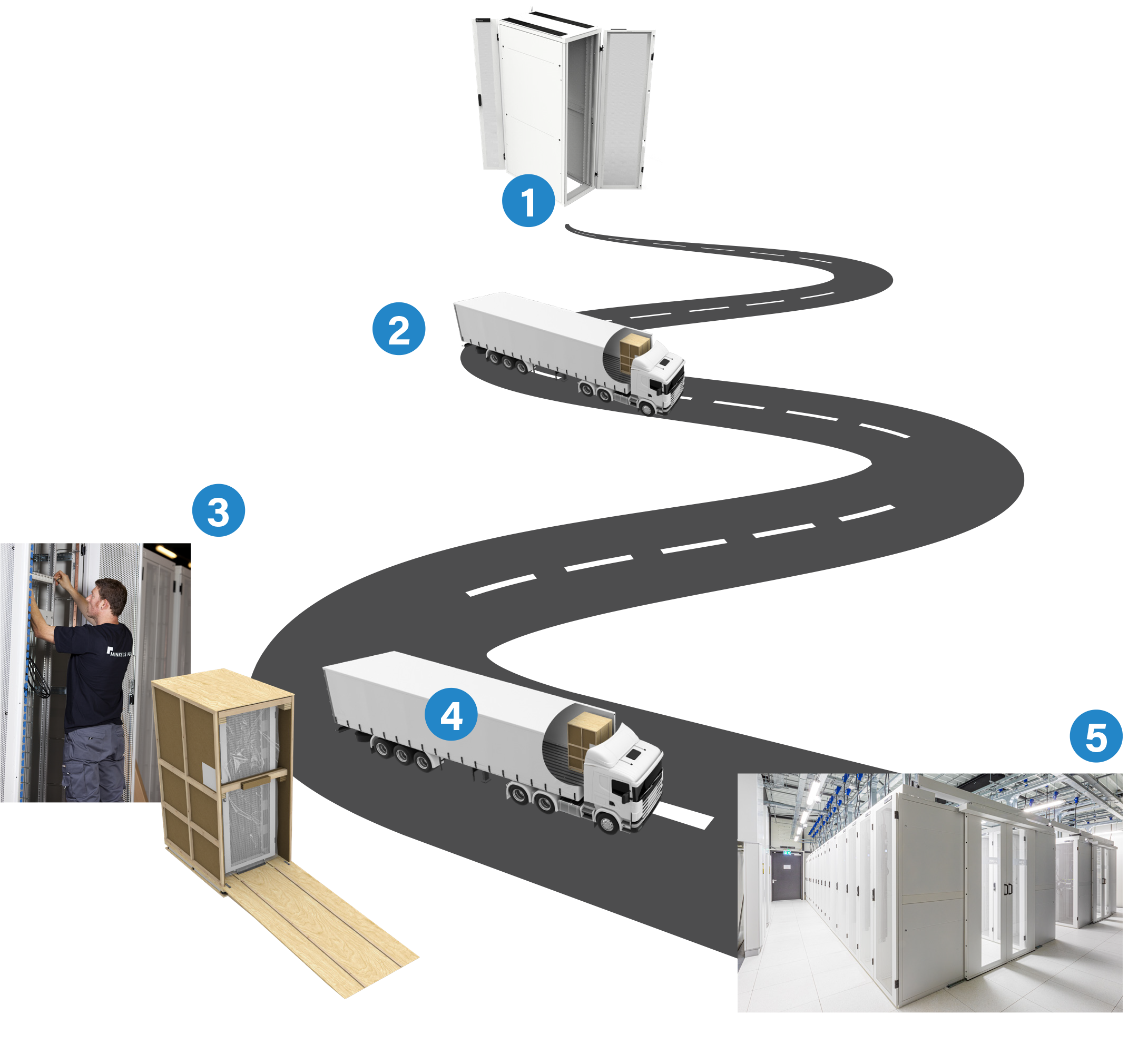 SAFE & SECURE
Nexpand TR answers the need of increasingly heavy/dense IT equipment and being capable of delivering these pre-loaded hardware cabinets safe and secure to site. The reusable packaging is used to transport the pre-populated cabinets to the customer's site. The packaging capabilities are tested according to International Safe Transit Association (ISTA) standards. We used the impact test to check for any damage to the contents, the stability test (to check the package will not tip over easily) and the vibration test – for vertical movement in the truck.
SUSTAINABLE
The packaging can be re-used, if handled carefully, at least 10 times. This is positive from a sustainability perspective but it also makes financial sense, as the lifecycle cost of our packaging solution will be less expensive than buying disposable packaging every time.
We use no single-use plastic and renewable materials in the packaging solution. Additionally, the packaging is modular in design so any damaged parts can be repaired or replaced.
CONCLUSION
The TR cabinets are just one more example of Minkels' ability to listen to customers and then to deliver what they are asking for. We identified many companies who were saying that they were getting heavier and heavier equipment, so they needed a more robust cabinet solution to cope with this. They were also saying that, in many cases, rather than arriving at the data center, where the cabinets are already installed, with the servers and other IT equipment, it would be much easier if they could pre-install everything at the server factory and then ship to site.
Nexpand TR meet these requirements securely, safely, speedily, and sustainably and, furthermore, like the company's standard cabinets, they are highly customisable.